Pluto TV for Firestick is one of the most prominent live TV streaming platforms that you can find out there. You can discover dozens of cable television channels offered along with Pluto TV. Therefore, it is an excellent option available for any person who wants to cut the cord.
One of the best things about Pluto TV is that it is completely available for free. However, you will have to experience commercials while you are enjoying content shared out of it. This will not be a major issue for you.
You will be able to get the Pluto TV app installed on numerous devices that you have. Out of them, Amazon Firestick holds a prominent place. From this guide, we are going to share more details about the steps that you should follow to install and watch Pluto TV on Fire TV.
Related: Get Philo App on your Firestick
How To Install Pluto TV on Firestick?
Here are the steps that you will need to follow in order to install Pluto TV on your Amazon Fire TV. Make sure that you follow the steps to get the job done correctly.
Step #1:
It is possible for you to get the Pluto TV app from the official app store of Amazon Fire TV. You just need to visit the Amazon App Store and you can find the app. Since this is officially available to you in the form of an app, you will not need to sideload into the device.
Step #2:
To begin with, you should go to the home screen of your Amazon Firestick and then access the search option. This is where you will be able to access the lens icon, which is located in the top left corner.
Step #3:
Now you should enter Pluto TV from the onscreen keyboard that you see. When you type in, you will be able to see how the app is getting recommended.
Step #4:
Click on the Pluto TV app link.
Step #5:
Now you will need to click on the Get button. This will initiate the download process. In case if you have downloaded Pluto TV before, you will be able to see a button called Download instead of the Get button.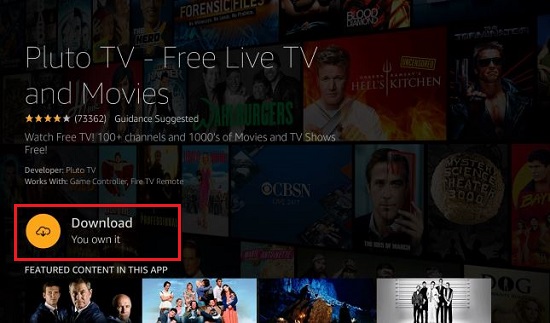 Step #6:
Wait for some time, as the app will download and install on your device. Then you can proceed to the installation.
Step #7:
Once you are done with installing the Pluto TV app, you can open it. Then you will be able to start enjoying the content.
To Conclude
The functionality offered out of the Pluto TV app is pretty straightforward. You just need to access the section called Your Apps and Channels. Then you can see the Pluto TV icon. You can click on this icon and load the Pluto TV app. Along with that, you can start enjoying the content presented out of it.
If you have got over 20 different apps installed on Amazon Firestick, you might not be able to see the Pluto TV app on the first screen. In such a situation, you will have to expand the search.
Must Read: Install HBO Max on your Amazon Fire TV