Philo is one of the most popular entertainment apps available out there for the people to enjoy. You can easily stream live TV and enjoy numerous channels with Philo. On the other hand, it offers lots of on-demand content as well. You can get Philo on Firestick and enjoy the content offered.
One of the biggest reasons for the popularity of Philo is its affordability. But, you will only have to spend around $20 per month to obtain your Philo subscription and keep on enjoying the content.
You can get the maximum out of this with the support offered out of Philo. You may also use Philo to save the favorite TV shows. In fact, Philo will help you to store them for a duration of 30 days for offline viewing.
Another great thing about Philo is that they offer a 7-day free trial period. If you wish to try Philo without making a payment, you may take a look at this trial period and use it.
Must Read: How to watch Philo on Roku?
How To Download & Install Philo on Firestick?
You don't need to go through any trouble while trying to get Philo on Fire TV. In fact, you just need to go through a simple and straightforward process to get the job done. That's because the Philo app is available within the Amazon App Store.
Here are the steps that you will need to follow in order to get Philo TV on your Amazon Fire TV:
Step #1:
You can find a Search Icon in Amazon Firestick. You can locate that with the help of your remote controller.
Step #2:
When you get into the search bar, you will need to enter Philo TV. There is an on-screen keyboard provided to help you with locating the Philo app.
Step #3:
Now you will be able to see the Philo TV app is presented in the search results. You can find that under the Apps and Games row. Pick the app from the list.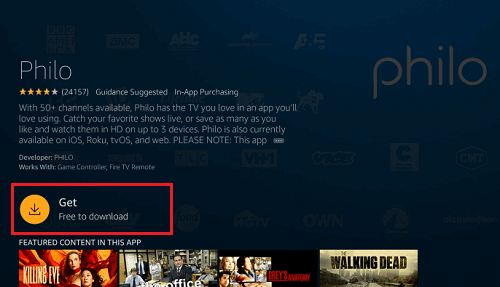 Step #4:
There is a button called Get. You should click on it and proceed with downloading Philo on the device.
Step #5:
Now you will need to proceed with opening the Philo TV app on your Fire TV.
These are the steps available for you to get Philo TV on Amazon Fire TV. As you can see, the steps are simple and any person will be able to proceed with getting the job done.
How To Sign In To Philo TV on Amazon Fire TV?
If this is the very first time that you are using Philo TV, you will be able to activate a trial right on your Fire TV. This will be a seven day trial period. The following are the steps that you have to follow to proceed with the activation.
You should initially launch the Philo TV app.
Now you need to click on the button called Start Free Trial.
You will need to enter the mobile number.
Click on the link that you got into the phone.
Now you can select the confirm sign-up button. This will initiate the trial period.
Proceed to enjoy Philo TV on Firestick and get all the great experiences shared out of it.
Also Read: Cast Philo to your smart TV