The ESPN Channel is one of the best and most popular sports content streaming channels available out there. If you are a fan of sports, you should obtain your subscription and continue to watch ESPN on Roku TV.
People who love to enjoy live soccer matches, football games, and other sporting content can take a look at the ESPN channel without keeping any doubts in mind. It can provide you with the chance to catch all the excitement on your device.
There are two different subscriptions available in ESPN, which are called as ESPN and ESPN+. It is up to you to analyze the differences that come along with these two subscriptions and go for the best one out of them.
No matter what ESPN subscription you have, you will be able to use your device and enjoy the content. This article will provide you with a clear indication of how to install this channel on Roku.
Related: Watch Fox News on your Roku
How To Get ESPN on Roku?
Below mentioned are the steps that you will need to follow to get ESPN:
Step #1:
You should get to the Roku home screen initially. From there, you will need to pick the option called Streaming Channels.
Step #2:
Now you will be able to search for the channel called ESPN. Or else, you can browse through the category called Sports. When you are scrolling down in the category, you will come across ESPN.
Step #3:
Once you have highlighted ESPN, you will need to click Add channel and then press on the OK button.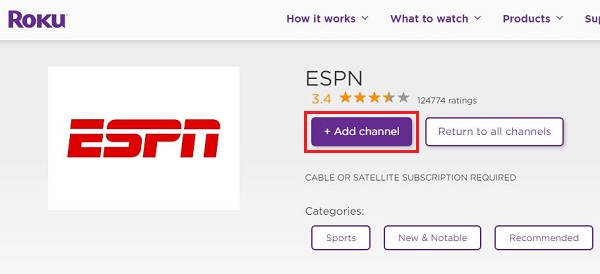 Step #4:
Now you will need to go back to the home screen. This is where you will be able to see the ESPN channel.
Step #5:
Select the channel from your Roku TV and then open it.
How To Activate ESPN?
Now you will need to pick the account provider of ESPN after launching the channel. Along with that, you should proceed with the login.
You will need to navigate all the way to the activation website of ESPN. However, you will not be able to get this done out of your Roku device. You will need to use your Mac or PC to get the job done. Then you will be able to enter the code on the television screen and go for it.
To Conclude
These are all the steps that you should follow to get ESPN on Roku. As you can see, the steps are relatively simple and straightforward. Hence, we believe that any person will be able to follow these steps and get the job done.
You will be able to get ESPN on numerous paid platforms such as DirecTV Now and YouTube TV. However, this method is convenient and hassle-free.
Hence, you will be able to purchase the ESPN subscription and watch all content streamed on ESPN. If you can get the ESPN+ subscription, you can gain access to the library that contains sports shows and highlights as well.
Must Read: Install Discovery Go on your Roku TV