Lifetime App is one of the oldest cable TV in the USA. A&E Networks owns these cable channels and most TV providers in the USA will provide you this channel on their network. For viewing this channel, you need not pay any subscription amount all that is required is the credentials of the TV provider. By using this tutorial, you can easily install the Lifetime App on Firestick.
Firestick is a device launched by Amazon that streams media, play video, install apps, and more on your TV. If you are a Fire TV user it is obvious that you will look for ways to install the Lifetime app.
What makes Lifetime popular?
As mentioned Lifetime app is a TV channel app that is very popular in the USA. It has been for years that they are providing the best serials and TV shows for their audience.
The best part is you do not have to bear any cost for watching movies and shows on Lifetime App. You can access it on different platforms, like Firestick, iPad, Android, iPhone, and Kindle app.
It allows you to watch complete episodes of popular shows like Dance Moms, Date Night Live, Little Women, Project Runway, and others. You can enjoy reality shows, Hollywood movies, and dramas in the Lifetime app. These shows are the real reason why the Lifetime app is so popular.
Related: How to install HBO Max on Fire TV?
How To Install Lifetime App on Firestick?
When you want to view the Lifetime app on Amazon Fire TV the first thing you need to do is install it there. The process of installing the Lifetime app is simple. You can do that by following the steps mentioned below.
Step #1:
Turn on Firestick. Then select the search icon.
Step #2:
In the Search icon type Lifetime and then hit enter.
Step #3:
From the results, select the Lifetime app.
Step #4:
You will find the Get icon. Click on it to download the app.
Step #5:
Wait till the app is downloaded. Click on the Lifetime icon to launch the app on your Fire TV device.
How To Activate Lifetime App on Amazon Fire TV?
After you have completed downloading the Lifetime app it's time to activate it. Follow the steps mentioned below.
Step #1:
After you open the app you can find a code that will be displayed. Note this code down.
Step #2:
On your PC or your smartphone, go to the Lifetime app's activation link.
Step #3:
You will be directed to a web page. Select Fire TV and there you need to Enter the code that you had noted down. After entering click on the Continue button.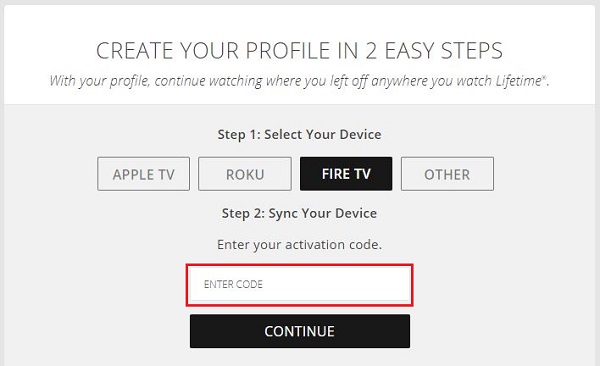 Step #4:
Now you can enjoy the Lifetime app on Fire TV as it is activated.
For viewing the Lifetime app, you have to visit the Apps section of Fire TV. There you need to select the Entertainment category. Now it's time to choose Lifetime. So, you have learned using the Lifetime app and start watching your favorite shows and series out there. You have the option to choose one according to your likes.
To Conclude…
Everybody wants to enjoy their favorite shows and programs. Lifetime application gives you the opportunity of doing that. It let you enjoy anything you like as on Firestick with the help of the Lifetime app you can stream anything that you want to watch.
Must Read: Download XUMO App on your Firestick