XUMO is a perfect app available to cater to the entertainment requirements that you have. If you are a person who is interested in enjoying free movies as well as TV shows, you may take a look at XUMO and proceed with the content offered out of it. One of the best things about the XUMO app is that it is available to people who are using a variety of devices. If you have an Amazon Fire TV you will be able to download and install the XUMO on Firestick as well.
What is XUMO?
Before you get XUMO App, you need to understand what it is and what is provided out of it. If you are interested in getting that experience, you may go ahead and take a look at XUMO.
XUMO is one of the most favorite methods available among people in today's world to enjoy entertainment content. You can discover more than 180 different channels of entertainment content offered out of it. There is something for everyone in these channels as well.
Once you start watching XUMO, you will be provided with the best content from digital networks and traditional networks. They will be presented to you in the form of on-demand channels.
Any person who has streaming devices will be able to go ahead and enjoy the outstanding content offered by XUMO. This includes all the people who have Fire TV as well.
Another great thing about XUMO is that you will have the opportunity to take complete control over content that you can watch. For example, if you wish to rewind and pause content, you can easily do it with XUMO.
On the other hand, you can easily hop into another video and watch what you want. If you don't find anything interesting to watch on live TV, you just need to take a look at the on-demand library and enjoy the content offered by them. Get XUMO App on your device to have this experience.
Related: Install XUMO App on your Apple TV
How To Download & Install XUMO on Firestick?
Here are the steps that you will need to follow when you are trying to install XUMO App on Fire TV:
Step #1:
You should navigate to the home screen of your Firestick and then scroll to the left-hand side. Then you will be able to select the search icon. Now use the keypad and enter XUMO. This will initiate the search and you will be provided with the list of recommendations.
Step #2:
When you click on the Select button located on the remote, you will be able to pick XUMO.
Step #3:
Click on the Get button.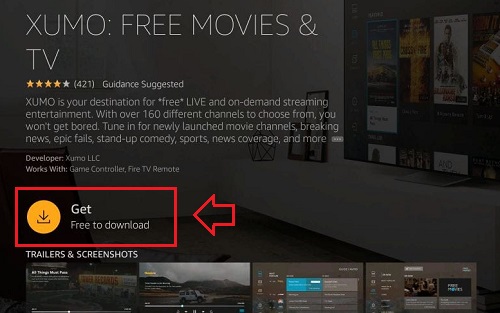 Step #4:
Wait for a moment until the XUMO app is successfully installed. This will take some time depending on the internet connection speed.
Once the process is completed, you are done with installing XUMO on Firestick. You can go ahead and enjoy the movies, TV shows, and all the other entertainment content offered out of it. You will have to follow the exact same steps while you are trying to get XUMO on any Amazon Fire TV as well.
Also Read: Watch Peacock TV on Fire TV