Disney Plus is one of the most popular Netflix alternatives. You will now be able to get Disney Plus on Firestick and enjoy the premium experience that comes along with it.
One of the best reasons available for you to get Disney Plus is the availability of content. This is one of the best and the most popular method available for you to gain access to the amazing content offered by Disney.
However, you will also be able to find many other impressive TV shows and movies on the content library of Disney Plus. Your kids would fall in love with all the content that they can experience out of Disney Plus as well.
Also Read: How to Download Disney+ on PS4?
How To Install & Watch Disney Plus on Firestick?
If you have a Fire TV, you can follow these steps and get Disney+ on Firestick. Make sure that you follow the steps and get the job done. Then you will be able to proceed with enjoying the premium experience that comes along with it.
Step #1:
You should get to the Firestick and then access the search bar. You will be able to see this search bar on the top left-hand corner of the screen.
Step #2:
Now you will be able to enter Disney Plus. There is an on-screen keyboard, and you will be able to enter it.
Step #3:
Under the Apps and Games section, you can see the Disney Plus app.
Step #4:
Click on the button called Get. Under the button, you will also notice an option called Free to download. There is no need to spend any money out of your pocket to get Disney Plus and you can download it completely for free.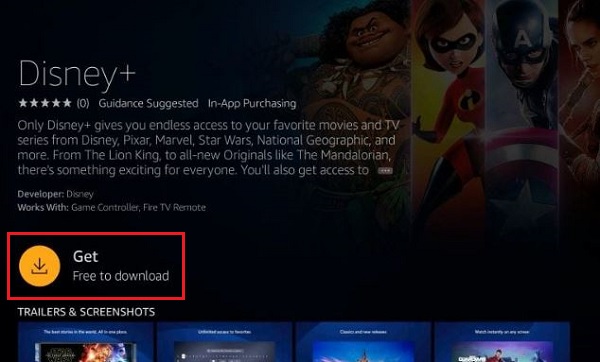 Step #5:
You should wait for a couple of minutes so that Disney Plus is downloaded to the device. This would vary based on the internet connection speed you have.
Step #6:
When the download is complete, you will get a prompt. By clicking on this prompt, you can launch the application.
Step #7:
You will also be able to open Disney Plus from the Apps and Channels section. When you go through the apps and channels installed, you can see the name of Disney Plus.
Step #8:
There is an options button in the remote controller. You can use it to navigate through the available apps and channels so that you can locate Disney Plus.
Step #9:
Once you locate the Disney Plus app, simply open it.
Conclusion
You should have an account on Disney Plus so that you can enjoy it on Amazon Fire TV. If you already have an account with a valid subscription, you can enter the credentials and sign into it. Or else, you will even be able to launch a free trial. You need to enter the email address, password, and create an account. Then you can enter the credit card details and log into the free trial.
If you are happy with the free trial, you can continue using Disney Plus on Firestick. The charges related to it will be automatically deducted from the credit card.
Related: Get Disney+ on your Smart TV