The long-awaited Disney Plus App is now available on the PlayStation 4. As a result, we can go ahead and start enjoying our favorite Disney movies and Disney shows. This can deliver a perfect content watching experience. If you are a gamer who is interested in getting that experience, you just need to think about installing Disney Plus on PS4.
There is a method available for you to follow and get the job done. Keep on reading and you will be able to figure out how to set up Disney Plus on your PlayStation.
Related: Install Disney Plus on your Smart TV
How To Get & Watch Disney Plus on PS4?
The following are all the steps that you should be following to get Disney Plus. Make sure that you get the job done based on these steps accordingly.
Step #1:
You should initially sign up for Disney Plus. You will be able to navigate to the official website of Disney Plus and do it.
Step #2:
Now you will need to turn on the PlayStation 4 gaming console. You can visit the PlayStation Store.
Step #3:
Pick the search button.
Step #4:
Using the onscreen keyboard, enter the Disney Plus App name and search for the app. Then you can locate the Disney Plus app being displayed on the screen.
Step #5:
Click on the Disney Plus app.
Step #6:
You will now be able to see a download button, which is located just under the picture on the left-hand side of the screen.
Step #7:
Once you are done with installing, you will be able to go to the TV and Video icon on your television. Click on the Disney Plus app.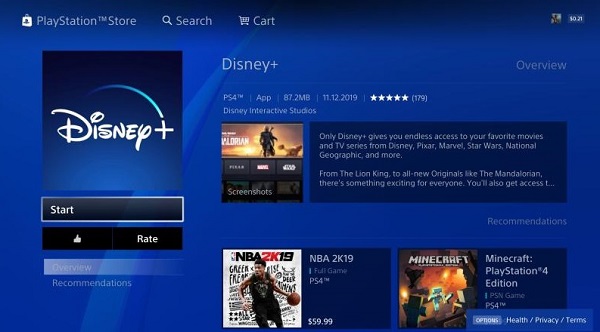 Step #8:
Now you can sign in to Disney Plus using the credentials of account created.
By now, you are accessing Disney Plus on the PlayStation 4 gaming console. Hence, you can browse any movie or TV show that is uploaded into it. If you can go through these steps and get the job done correctly, you will be able to start streaming content with minimum struggles.
You can download Disney Plus for free. However, you should pay and get a subscription to access the service offered along with it. Otherwise, you will not be able to enjoy any of the movies and TV shows that come along with the subscription.
To Conclude
If this is the very first time that you are going to use Disney Plus on PlayStation, you can download the app and use the free trial period of seven days. After the trial period, you can make a decision on whether you are going to continue with watching Disney Plus or not. If you decide to continue watching, you will have to spend an amount of $6.99 per month to proceed with it.
The Disney Plus subscription on PS4 is totally worth it because you will be able to enjoy 4K streaming on the device. This can deliver an outstanding experience to you. You might even get addicted to it.
Also Read: Download Pluto TV on your Fire TV