Are you searching for a way to watch Stremio content on your TV? Do you want to enjoy the Stremio shows and movies on your TV screen? Then follow this easy method to cast Stremio to your TV.
Stremio is an entertainment application that allows you to access all the streaming content that is available in the market. To watch its content, you much install the Stremio app on your device. It supports multiple devices like Android, iOS, PC, Firestick, Smart TV, and many more.
Stremio offers a variety of streaming content like newly released films, TV series, live TV, and other web channels. It gives access to watch streaming content from different sources by using add-ons.
It also works with Chromecast So it is the best choice to cast from the Stremio app. Now let's see the complete instructions to watch Stremio content on a large screen.
Also Read: Install Stremio on your Android TV
How To Cast Stremio to Your TV?
If you want to cast Stremio from your mobile phone, it doesn't work well. With the help of the growing technology, mirroring your mobile screen to television is very simple by using the Chromecast device.
Now connect your Chromecast device to your Smart TV and then set it up. After that, connect your smartphone and Chromecast device to the same Wi-Fi.
Step #1:
First, download the latest version of the Stremio app on your mobile phone. If you're an Android user, get the Stremio app from the Play Store and iOS users can get it from the App Store.
Step #2:
Open the Stremio app from your device and then sign in to your account by using your login credentials.
Step #3:
Now tap on the video that you want to stream and then select the Cast icon.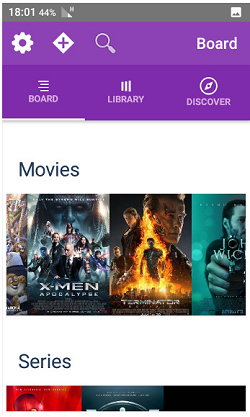 Step #4:
On the next screen, you will see a list of available Chromecast devices. Select your Chromecast device.
Step #5:
When it's connected, you can cast videos from the Stremio app to the connected Smart TV.
Must Read: Download Stremio on your Samsung TV
Alternate Method To Chromecast Stremio from Your PC
If you want to cast it from your PC, connect your Computer and Chromecast to your home Wi-Fi. Now follow the below instructions.
Step #1:
Visit the official website of the Stremio app and then download the newly released version.
Step #2:
Go to the download folder and then click on it to install the Stremio app.
Step #3:
When it's installed, click on the Finish button.
Step #4:
Now click on the Allow access button from the Windows Security Alert box.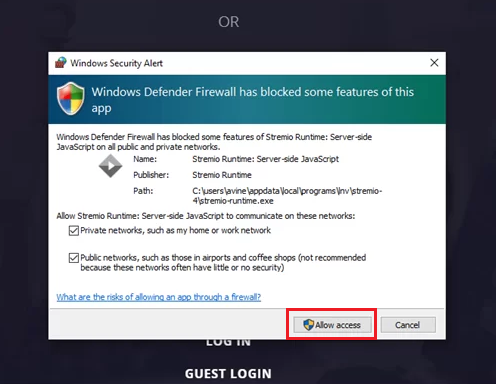 Step #5:
Next, Log in to your Stremio account by entering your details. If you don't have one, Sign Up for a new Stremio account.
Step #6:
After that, open the Google Chrome Browser from your PC and then choose the Cast option from the three-dotted menu.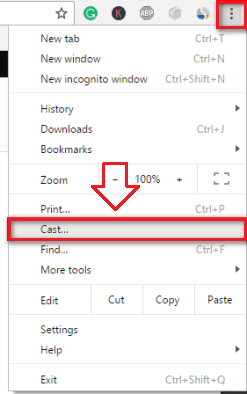 Step #7:
Now click on the Sources option and then select the Cast Desktop option.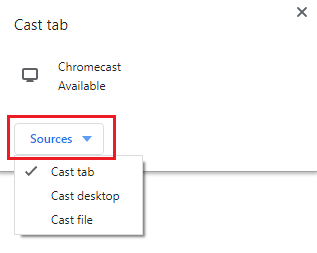 Step #8:
Next, click on the Chromecast device that you want to mirror your PC screen.
Step #9:
After a successful connection, you can launch the Stremio app from your PC and then cast its content to the TV.
To Conclude…
By going through the above methods, you can cast the Stremio content from your respective device to your TV. After setting up, launch the Stremio app to play your favorite movie or TV episode and then watch it on your big TV screen.
Related: Get Stremio on your LG TV