Are you searching for a one-stop solution to finding all your entertainment? Then Stremio is the best application to stream all your favorite content. Here, we are going to show you the best way to get Stremio on Android TV without any hassle. Before going to install Stremio on your TV, let's see what it offers.
Stremio is the topmost streaming application to watch films, TV episodes, Live TV, and more. It provides add-ons to stream content from different sources. It works like a media center where you can watch all types of video content in one place.
Stremio gives the access to stream all the latest movies, TV series, TV channels, Sports, listen to Podcasts, etc. with the help of the addon system. You can also cast Stremio content from your smartphone or personal computer.
How To Install Stremio on Android TV?
Streaming it on your Android Smart TV isn't difficult because you can do it easily in no time. Let's see what are the available methods to install Stremio on your TV.
Install Stremio App on Your TV via Google Play Store
Step #1:
First, turn on your Android TV and then connect it to a good internet connection.
Step #2:
Now you should go to the home screen of Android TV and then open Google Play Store from the Apps section.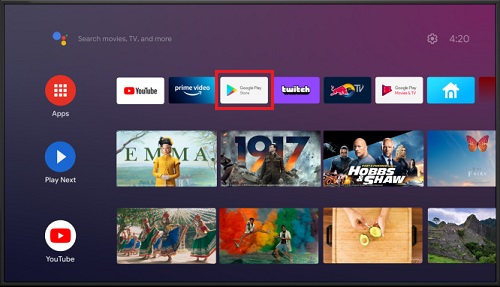 Step #3:
Next, click on the Search bar and then search for the Stremio app.
Step #4:
Now select the Stremio app from the list of the results and then select the Install option. After clicking on the install button, the Stremio app will be downloaded to your TV.
Step #5:
After completion of the installation, select Open to launch the Stremio app on your television.
Step #6:
When the Stremio app launches, it will ask you to sign in to your account. Now enter your login credentials otherwise sign up for a new Stremio account.
After entering into your Stremio account, stream high-quality video content on your Android television.
Related: Get Paramount+ on Samsung TV
Install Stremio on Your TV via Web Browser
Step #1:
Launch Google Chrome or your favorite web browser from your TV and then search for the Stremio APK file.
Step #2:
From the results, go to the trusted website which provides a safe Stremio APK file, and then download the latest version of the Stremio application.
Step #3:
Next, open File Manager and then go to the Download folder.
Step #4:
Now open the Stremio APK file to install on your TV and then allow apps from unknown sources option.
Step #5:
After running the Stremio APK file, choose Install and the app will be installed in a few seconds.
Step #6:
Now go to the Apps section and then launch the Stremio App from your TV. After that, sign in to the Stremio account and then watch your favorite TV series or movie on the big screen.
To Conclude
By following any one of the methods, install Stremio on your Android TV without facing any issues. Downloading Stremio App from the Google Play Store is the safest way to enjoy all your content rather than from a third-party website.
Must Read: Install Quibi on your Smart TV