No strings attached entertainment is what you're searching for. If this is the case, Redbox on Roku is the perfect destination! You don't need a membership to view a wide variety of movies and television series.
You may rent individual episodes or films from this service and then watch them on demand. To use this feature, you don't even have to log in. Also, watch free live TV and on-demand content.
In this article, we will share the exact steps on how to get Redbox on your device. In other words, we'll go over all you need to know about this fantastic streaming service in this post.
How To Install Redbox on Roku?
As the first part of this article, we will share the steps to install Redbox on your device. Follow these steps carefully and you can get the job done.
Step #1:
You should first turn on the Roku device you have. Then you can launch it and you will get to the home screen on your television. You may use the Roku remote controller to operate it.
Step #2:
Next, you should click on the option named Streaming Channels on your television screen. This would be an option that you can see on the left-hand menu. After that, you can launch the Roku store.
Step #3:
You may now pick Search Channels. After that, you need to enter Redbox in the search bar. Out of the displayed results, you can select the Redbox channel.
Step #4:
Once you select the channel, you should tap on Add Channel. Then Redbox channel will download and install on your device.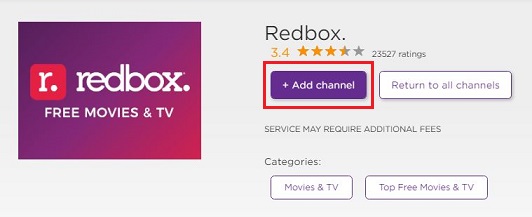 Step #5:
When the Redbox app completes downloading into the device, you may click on the OK button. Then you can confirm that you have successfully completed app installation.
Related: Get Sling TV on your Roku
How To Activate Redbox on Roku?
Now let's get to the second part of the article, where we explain how to activate Redbox. It will not be possible for you to use Redbox without activating it.
Step #1:
You should launch the Redbox app that you have downloaded into the device. After that, you will need to sign in to the account by entering your credentials.
Step #2:
Now you can see an activation code displayed on the screen. Make sure that you take note of this. That's because you will need to use it in the next step.
Step #3;
Now you should get to your computer or mobile, and then visit the Redbox activation website.
Step #4:
This is where you should enter the activation code that you can see on the screen. Then you will be logging into the Redbox account. After activating, the content offered by Redbox will be loaded on your screen as well.
To Conclude
These are the steps to get Redbox on your Roku and then access unlimited content. You can choose either a rental or buying option in order to stream the content from Redbox. Rentals have access to 30 days period to watch films and shows but buying has the option to stream anytime.
Also Read: Install USA Network on Roku