Today we are going to know what is the Audible App and how to use it on various gadgets. And also, you will know the way to Chromecast Audible App from your Smartphone and PC device.
What is the Audible App?
Audible is one of the best audio application that has the number of audiobooks in it. You can listen to the different collections of audios like movies, series, books, stories, and more.
The app supports various gadgets and you can use their one-month free trial to listen to the audiobooks. If you like it, you can go with a premium subscription and cancel it at any time.
Also Read: How to Chromecast Google Play Music?
How To Chromecast Audible App?
Basically, it is an audio application and doesn't need any extra effort to listen to your favorite stories. Just connect to the Bluetooth speaker or any other device to listen to audios.
What if you wanna cast to your Smart TV or Desktop monitor? Here are the best ways to cast the Audible App using the below methods.
Method#1 Chromecast via Smartphone
Step #1:
First of all, connect your Chromecast device to your TV through HDMI port. And then connect both Chromecast and smartphone to the same WiFi network.
Step #2:
Take your Android mobile phone and then open settings from your device. Now tap on Other Wireless Sections option.
Step #3:
In the wireless transport section, you can find the Multi-screen Interaction. Click on it and then turn on Multi-screen Interaction.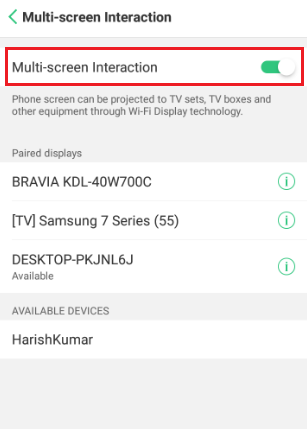 Step #4:
Now select your Chromecast device from the list to mirror Android phone to your TV.
Step #5:
Next, open Audible App and then play your favorite audiobooks, stories, series, etc. and then hear it on your smart TV.
Method#2 Chromecast via PC
In order to cast audiobooks, you need to install another software on your PC device. Because it is used to convert audiobooks into a supported audiobook for Chromecast. Let's dive into that section:
Step #1:
You need to install AudFree Audio Converter on your PC device by downloading it from here.
Step #2:
Open AudFree converter and then add audible audiobooks to it with the help of the Add button.
Step #3:
Now select the format to convert those audiobooks into MP3, M4A, AAC, FLAC, WAV, or M4B. After selecting the audio parameters, tap on the OK button.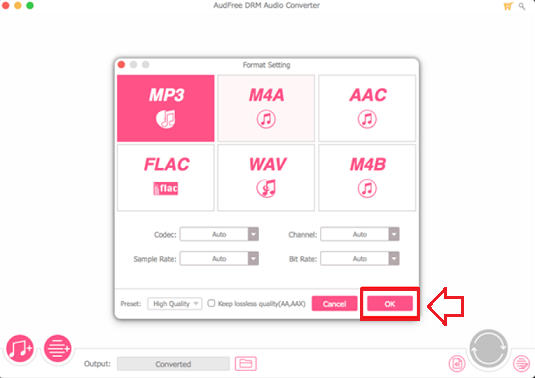 Step #4:
You can see the converted audiobook at your destination folder.
Step #5:
Now go to the display settings from your PC and then click on Connect to a wireless display option. Next, connect to the Chromecast connected device in order to cast from your PC device.
To Conclusion
These are the two best methods to Chromecast Audible App from your mobile phone or PC device. Hope you've successfully done with the steps to use Audible App to listen to audiobooks, TV shows, movies, stories, etc. Are there any issues? Let's know through comment.
Must Read: Cast Pandora Music to TV