Showtime Anytime is the best way to stream on-demand video content with no additional cost if you have a Showtime subscription via participating TV providers. In this guide, you will learn the way to activate Showtime Anytime on Roku device with clear steps.
Showtime Anytime offers a large collection of TV series, Movies, Live TV, Sports and much more with high quality. Whenever you are on the go, it is the best application to stream the content and get entertained at any time.
Must Read: How to jailbreak Roku TV?
How To Activate Showtime Anytime on Roku?
Without any delay, let's dive into the below steps to activate Showtime Anytime on your device:
Step #1:
You need to turn on Roku Player. Now take Roku remote into your hands and then press the Home button. You can find this home button at the right corner of the top side in your remote.
Step #2:
When you are on the home screen, select Streaming Channels which will take you to the Channel Store.
Step #3:
Now find out the Showtime Anytime App using the search channels option or else locate the app on Movies & TV category. After finding, select Showtime Anytime app from your device.
Step #4:
Next, you will see the list of TV shows and other streaming providers. From there, select Activate.
Step #5:
When you click on the Activate, you can find your TV provider and list of the streaming providers. There are the participating providers AT&T U-verse, Spectrum, Cox, DIRECTV, DISH, Optimum, Verizon, XFINITY, FiOS, Mediacom, Frontier, Suddenlink, and more.
From these providers, you are subscribed to the Showtime App. Once you selected the subscription provider, you need to login to your account. Now you will see a code that will appear on the screen itself.
Note: If you don't see your TV provider on the list to log in that means Showtime Anytime is not supported by their streaming service.
Step #6:
Now take your mobile phone, tablet, or personal computer and then visit this link http://www.showtimeanytime.com/activate from your favorite browser.
Step #7:
After navigating to that website, you will see a box to enter the code. Here, you need to enter the activation code that is displayed on the Roku device and then click on submit.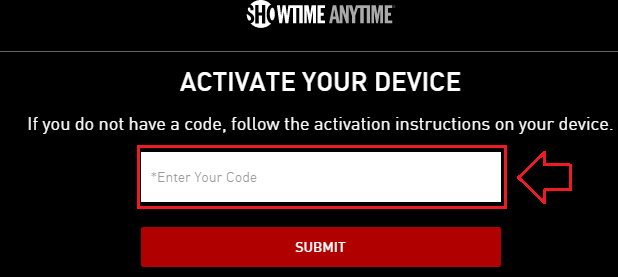 Step #8:
When you enter that code correctly, you will see a success message. Now you've successfully activated the Showtime Anytime app.
Step #9:
After that, you can start watching your favorite content from the Showtime Anytime app without any restrictions.
To Conclude…
Are facing any issues with sign-in or any other problems? Please contact your steaming TV provider so that you can solve the issues with any hassle.
These are the clear steps to activate Showtime Anytime on Roku player without any errors. I hope you will enjoy the streaming service that is offered by the Showtime Anytime app.
Related: How to install VUDU on Roku?