In this article, I will tell you what Chromecast is, how you can use it, set it up, and how you can Chromecast Google Play Music in three ways.
Are you tired of watching movies, news, or Netflix on your small mobile screen? Do you want to put some workout music on higher volume but your phone's loudspeaker is not so loud?
Or maybe your kid wants to see a cartoon on your smartphone but you are worried that he might start browsing other things?
For all these problems, the best solution is Chromecast.
So, let's dig in.
What is Chromecast?
Chromecast is a dongle that is connected to modern television set's HDMI (High-Definition Multimedia Interface) port to let you stream or cast media from your smartphone/computer/tablet on to your TV screen by connecting it on your home Wi-Fi. Now your smartphone will work as a remote control.
There are many apps i.e. YouTube, Google Play Music, Netflix, Amazon Prime, Google Chrome, etc. which supports Google Cast.
How does Chromecast work?
You actually point out to Chromecast to what to play through your smartphone and then Chromecast plays the content using its own connection to retrieve the best quality streaming. It means that if you connect a Chromecast Ultra to a 4K TV, then it will play 4K content that you can't view on your phone.
How to set up Chromecast?
You put the Chromecast dongle into your TV's HDMI port and a power source, and then install the Google Home mobile app on your mobile device and follow the app's setup instructions.
The app will automatically find your Chromecast and prompt you to connect it to the same Wi-Fi network connected to your smartphone.
How To Chromecast Google Play Music?
So, once you set up Chromecast, you can Chromecast the music through your Smartphone, Computer or Tablet.
#1 For casting through the smartphone you will do the following steps:
Connect your smartphone and Chromecast to the same Wi-Fi.
Now, open the Google Play Music app by downloading it from the Play Store or App Store.
Click on the 'Cast' button.
Select your Chromecast device.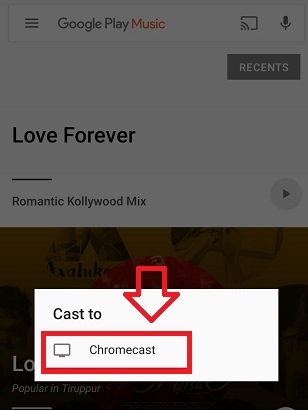 Select your song and click on 'Play'.
#2 For casting through PC you will do the following steps:
Open the Chrome browser on your computer.
Connect your Chromecast and PC to the same Wi-Fi network.
Type 'Google Play Music' (google.com/music) on your Chrome search bar.
Select a song you want to play.
Click 'Play'.
At the bottom of the screen, click the 'Cast' button.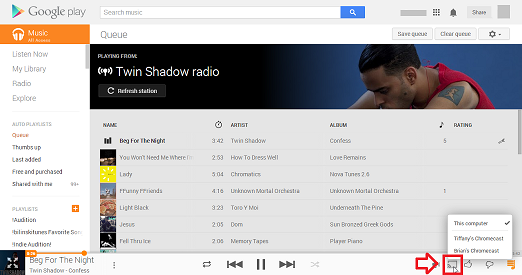 Under "Cast", select your Chromecast from and it will start playing on your TV.
#3 For casting through tablet you will do the following steps:
Connect your tablet and Chromecast to the same Wi-Fi.
Now, open Google Play Music app.
Click on the 'Cast' button.
Choose your Chromecast device.
Now you need to choose a song, album, or playlist to play.
Click on 'Play'.
To Conclude…
Now you know how to Chromecast Google Play Music, so go and buy Chromecast dongle and start streaming on the larger screen.
Must Read: How To Cast Pandora Music to Smart TV?