After you purchase a Chromebook, one of the very first things that you have to do is to get antivirus software installed on it. Then you can make sure that you are delivering all the protection needed by the Chromebook against viruses and malware attacks. Numerous antivirus applications are available for Chromebook users to consider. Out of them, Avast for Chromebook is holding a prominent place.
It is one of the antivirus applications that we can highly recommend for all the Chromebook users out there. That's because you can get a trouble-free performance with the antivirus software.
How To Install Avast for Chromebook?
There are two main methods available for you to get Avast antivirus for Chrome OS. The first method is to download the official Avast Antivirus application through Google Play Store.
Download Avast Antivirus Using Google Play Store
Before you go ahead with this method, you need to make sure that you have the updated version of the Chrome Operating System. Then you can easily complete the installation. Here are the steps that you should follow to get the job done.
Step #1:
Launch Google Play Store on your Chromebook. You can do this from the launcher.
Step #2:
In the search bar, enter the Avast Antivirus App name. Then you can find the app is displayed in the results. Click on the name of the Avast.
Step #3:
When you open up the Avast Antivirus app page, you will be able to find a button called Install.
Step #4:
Now tap on the Install button.
Step #5:
Once the installation is complete, you can find a button called open.
Step #6:
Now you can open up Avast Antivirus and sign in to your account. You can give the Avast credentials and directly log into the app to use.
Install Avast Antivirus Using Chrome Extension
You will also be able to get the Avast Antivirus application installed on your Chrome OS in the form of a Chrome Extension. In order to do that, you should be visiting the Chrome Web Store. Here are the steps that you will need to follow in order to get the job done.
Step#1:
You should initially launch the Chrome Web Store on your Chrome OS.
Step #2:
You should get to the left pane and then select the option called Apps or Extensions.
Step #3:
Access the search bar and look for Avast.
Step #4:
Once you locate the extension, click on the button called Add to Chrome.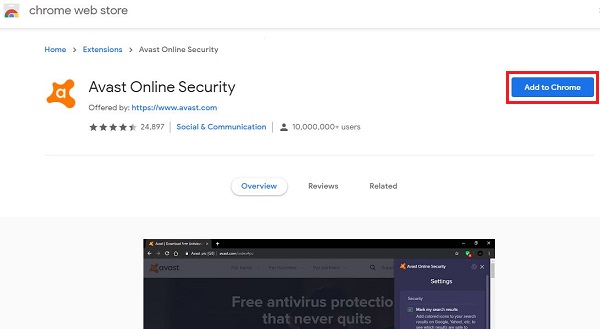 To Conclude
By following both these methods, you can get Avast for Chromebook. However, the second method will only deliver protection to your Chrome browser.
Also Read: Stream Netflix on your Chrome OS