Do you want to heal yourself with good music? Then you should start using Tidal Music. It is one of the best music streaming apps available for you to consider out there as of now. Whether you listen to music leisurely, on the move, or at work, you may think about using Tidal Music. In this guide, you will know the steps to listen to Tidal on Chromecast to your TV.
The music collection that you can find in Tidal Music is quite impressive. In fact, you will be able to find different music albums, music videos, tracks, and even customized playlists. As of now, more than 250,000 music videos and over 70 million tracks are available on Tidal Music. Regardless of what your music preferences are, you may start using Tidal Music and experience the benefits that come along with it.
One of the greatest reasons available for you to get Tidal Music would be that it is offering in-built support to Chromecast. In other words, you can directly cast content on your television with the Tidal app. Continue to read and we will share the steps that you should follow when you try to get Tidal Music on your TV.
How To Cast Tidal on Chromecast To Your TV?
There are two ways to listen to Tidal Music on your television. Now follow the below methods to cast Tidal Music without any issues.
Cast Tidal Music From Your Smartphone
Before you cast Tidal Music, you will need to get that on your smartphone. It is possible for you to get Tidal Music on both Android and iOS smartphones. Android users can get Tidal Music from the Google Play Store. Or else, iOS device owners can get the app from Apple App Store.
Step #1:
Make sure that the Tidal Music app is available on your tablet or smartphone.
Step #2:
Now you need to select the Now Playing option on the screen and then locate the cast icon.
Step #3:
If you have added a Chromecast device, you can directly select it. Or else, you can follow the steps as shown on your screen to add your new Chromecast device.
Step #4:
Next, you should pick the Chromecast device. You will now be able to play the songs directly on a Chromecast device.
Also Read: Chromecast Crave app to your TV
Cast Tidal Music Using Chrome Browser
Even if you don't have a mobile, you can cast Tidal Music on your television. This can be done through the Google Chrome browser that you have installed on the computer.
Step #1:
You should launch the Google Chrome web browser. Then you should visit the website listen.tidal.com.
Step #2:
Now you will be asked to log in with the Tidal account. You may click on the menu with three dots, which you can see in the top right corner.
Step #3:
Next, you can pick the Cast menu.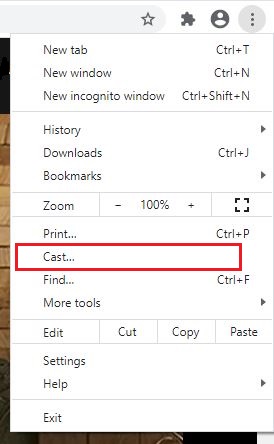 Step #4:
You may now select the Chromecast device and proceed with playing your favorite music as per the preferences that you have.
To Conclude…
In case you are having any problems with playing Tidal on Chromecast, we encourage you to go ahead and restart both devices. On top of that, you should also make sure that you are having the latest and updated version of Tidal Music running on the device to get the best experience out of it.
Must Read: How to cast ITV Hub?