Philo is arguably one of the best TV streaming services that started from desperate times. Like any other channel, Philo has its own backers that are Discovery, Viacom, and AMC. They, however, have been removed from other streaming bundles as they do not contain sporting programs. However, they did not want to become extinct hence making them launch their own program. It does not have any sporting program, but it is very cheap. Let's see the process to watch Philo on Roku from the below guide.
You only pay $20, the price tag has seen them become the cheapest streaming and cable channel that is on the internet today. It also pairs well with other streaming companies. Philo added new guides that will ensure you see what is on, popular and what is on easily.
Philo is a subscription service that conveys live and on-demand services to more than 40 channels.
How much will you pay?
Philo is arguably the cheapest streaming channel in the world. You only pay a subscription of $16 per month after enjoying seven days of free trials. However, in order to access more additional channels, you will pay $4 per month.
Related: Stream Fox News on Roku TV
How To Watch Philo on Roku?
Watching a TV program can be a costly process. It involves acquiring a cable, and the satellite's connection can be more expensive than you can ever think. The reasons have made many people want to cut the cord.
Many people have now turned to the internet to stream their favorite TV programs despite it not being an easy task, as you may think.  There is very stiff competition, and it is not guaranteed that you will save any amount of money. That is where Philo comes in to help you. If you have TV, watching Philo is relatively easy.
After deciding to watch Philo on your TV, which offers rich programs, you need to know how to set it up first. We are going to help you if you have to get Philo when using Roku and get to experience programs uninterruptedly.
How To Install Philo?
It is not easy to add the app on your Roku TV. You can just use a remote for the same. Do the following things to succeed in watching it.
Take your Roku remote control and then press the home button.
Click the streaming channels option.
Click the search channels option in the next window.
A search bar will pop up, and you need to type Philo.
Click the add channel option, and step by step, follow the instructions that will pop up.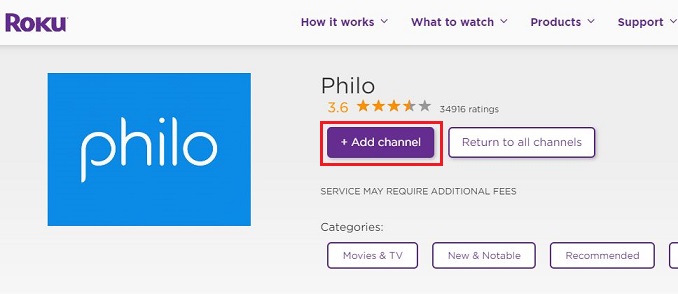 Now log into your Philo account and start enjoying the programs.
To Conclude…
Philo on Roku is a great thing you can have as it boasts a perfect business association. The excellent business associations have enabled them to have the best content from the cable's deeper catalog. The following are the main content providers of them, A&E, AMC, Discovery, Scripps, and Viacom.
Must Read: How To Chromecast Philo?