HBO Max is currently available for the people who are interested in enjoying the great content offered out of it on numerous devices. They include tablets, phones, Apple TV, Android TV, Xbox One, PS4, and many more. Out of them, Samsung Smart TV holds a prominent place. If you are owning a Samsung Smart TV, you can proceed with the installation of HBO Max on your television without facing any difficulties. Then you can receive all the support needed to enjoy content with your loved friends and family members.
How To Download HBO Max on Samsung Smart TV?
The process you need to follow to get HBO Max on Smart TV is simple and straightforward. Samsung Smart TVs come along with a dedicated app store on their own. You can find the HBO Max app on this app store.
Therefore, you just need to go through a few simple steps to get the installation job done. Follow these steps and you can end up with getting the installation done.
Step #1:
You should press on the Smart Hub button, which you can find in the remote controller. This is also called as the Home button. It looks similar to a house.
Step #2:
Now you can open up Smart Hub on the Samsung Smart TV. You can navigate to the left-hand corner of it and you can find an option called Apps.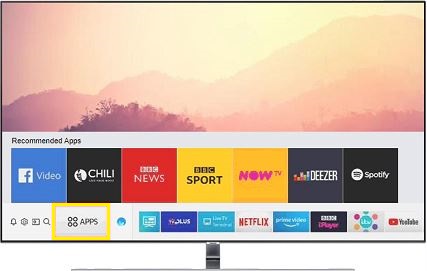 Step #3:
You can now see all the apps that you will be able to download to the Samsung Smart TV. You will be able to pick the search option that is located in the right top corner. This icon is displayed similar to a magnifying glass.
Step #4:
Now you need to enter HBO Max using the on-screen keyboard.
Step #5:
The search will provide you with the HBO Max app. You can simply click on the Install button. Then the app will be downloaded and installed on the television. Make sure that your Samsung Smart TV is connected to an active internet connection to get the job done.
Step #6:
Once you are done with the installation, you will be able to access the app through Smart Hub. You can navigate to the HBO Max app and start it.
How To Sign In To HBO Max?
Once you get HBO Max on your Smart TV, you should be aware of how to sign in and how to use the functionality offered.
You should initially open the installed HBO Max on your smart television. Then you can find a code. You should go near the phone or PC, open up an internet browser and visit HBO Max.
You can log into the account and then enter the code as you can see on the screen. Then you will be able to activate your HBO Max account to stream content on the Samsung Smart TV. You need to do this only for one time to start enjoying the content.
Must Read: How to get HBO Max on Amazon Fire TV?