Pantaya on Firestick is a popular streaming service based in the United States. It offers exclusive access to numerous TV series and movies in the Spanish language. People who are looking for Spanish content prefer to take a look at what Pantaya is offering.
Pantaya offers on-demand content with HD quality. Hence, there is no need to think twice before accessing content on Pantaya. It is also possible to download content from Pantaya and enjoy them offline.
The best thing about Pantaya is that it is available for multiple platforms. They include Amazon Firestick as well. Let's take a look at the steps to get Pantaya on Amazon Fire TV.
How To Install Pantaya on Firestick?
You can install Pantaya on your Amazon Fire TV, similar to how you download and install any other app that is available out there. Here are the steps in brief.
Step #1:
You need to first connect your Amazon Firestick to the HDMI port of the television and launch it.
Step #2:
Then you will need to go to the search option, which you can see under the Find category of the home screen.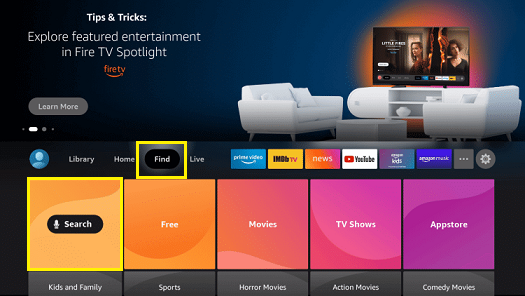 Step #3:
Once you get the search bar on your screen, you can enter Pantaya from the virtual keyboard.
Step #4:
You can now locate Pantaya app, and you will be able to select the Get button so that you can download it to Fire TV.
Step #5:
After downloading Pantaya, you can get it to automatically install on the device as well. The next step would be to click on the Open button and then log into your Pantaya account.
Step #6:
Now you have Pantaya on the Fire TV, and you can continue to enjoy the content offered.
Also Read: Watch Fox Sports on your Firestick
Another Method To Get Pantaya on Amazon Fire TV
Above mentioned is not the only method available for you to get Pantaya on your device. Here's an effective workaround method available for you to try.
Before going through the steps, you need to install the Pantaya app on your mobile phone from the Play Store. After that, connect the mobile phone and Fire TV device to the home internet connection.
Step #1:
You need to take the Amazon Firestick remote to your hand, and then hold the Home button.
Step #2:
Then you will be able to see a list of options. Out of this list, you should click on the option named Mirroring.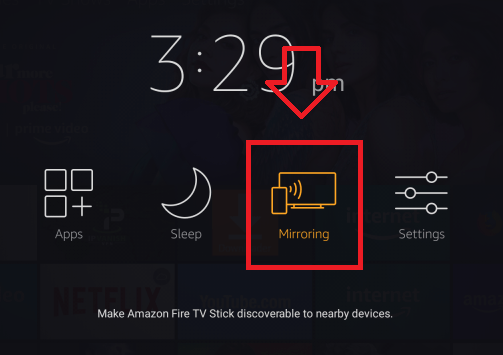 Step #3:
In case you are using an Android smartphone, you should go to the Notifications Panel.
Step #4:
Click on the Cast option now and then you may select the Firestick device as the output.
Step #5:
Now you may launch the Pantaya app on the Android smartphone. Then you can play anything on Pantaya and stream it. You can see that the Pantaya content will display on the Fire TV screen.
To Conclude…
It is important to keep in mind that following the above methods to stream movies and shows of Pantaya on Firestick. Now select any movie and then enjoy watching your favorite movies from Pantaya at any time.
Must Read: How to get Vimeo on your Fire TV?