If you love sports content streaming, Fox Sports is a subscription that you should get. That's because a Fox Sports subscription would never fail to impress its fanbase. From this tutorial, you are going to know the steps to install Fox Sports on Firestick without any hassle.
Fox Sports is among the most reputed apps available for people who wish to enjoy sports main events. On the other hand, you can think about using Fox Sports to enjoy live BTN television games, original BTN shows, and events as well. You just need to log into Fox Sports via the credentials shared by the television provider.
Another great thing about the Fox Sports app is that it is available for you to download completely for free. The app is currently available on Apple App Store, Google Play Store, and Amazon Store.
You don't really need to have a Line TV subscription or a Cable TV subscription to enjoy Fox Sports, as you can do it through any of these alternative methods. While keeping that in mind, let's explore how to watch Fox Sports on Fire TV.
Related: Get Vimeo App on your Amazon Fire TV
How To Get Fox Sports on Firestick?
Step #1:
As the first step, you should launch the Amazon Firestick device. Then you need to get to the tab named Find.
Step #2:
Now you can select the Search icon.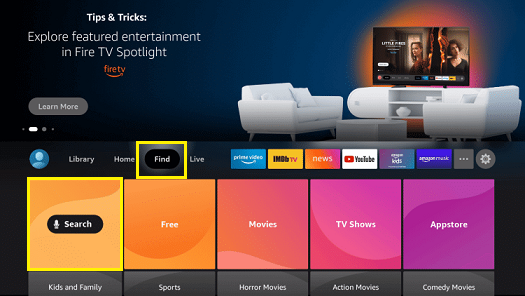 Step #3:
Now you can enter the FOX Sports app name to search and then pick the Fox Sports app from the list that you can see.
Step #4:
Click on the Fox Sports app icon again. You can now select the Get button.
Step #5:
It will take some time for the Fox Sports app to download to your Amazon Fire TV. Once it is downloaded, you may click on the Open button to launch Fox Sports app.
How To Activate Fox Sports on Amazon Fire TV?
Before you watch Fox Sports on Amazon Fire TV, you will need to activate it. Here are the steps that you need to follow to activate Fox Sports on your Amazon Fire TV.
Step #1:
After downloading the Fox Sports app to your Fire TV device, you may open it. Once you open the app for the very first time, choose the Sign-in option and you will be able to see an activation code. You should take note of this activation code.
Step #2:
Now you can go to https://activate.foxsports.com/activate URL on your mobile or PC web browser.
Step #3:
Next, enter the activation code. After entering the activation code, you should hit on the Submit button.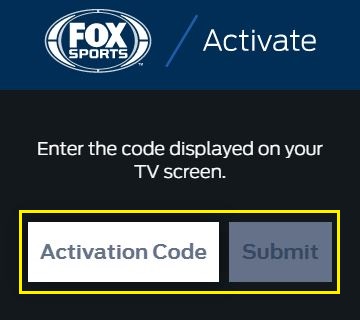 Step #4:
Now you can select the TV provider that you are already using. You will next need to log into the system of the TV provider using the username or email, along with the password given.
Step #5:
Next, go to the Fire TV and you can find the content of Fox Sports to stream on your device.
Conclusion
Once you go through all these steps, you can continue to watch Fox Sports on Firestick. It can provide a great overall experience to you, which you will fall in love with. Fox Sports is gaining lots of attention as a premium content provider. Hence, you don't have to think twice about the decision that you put to get hold of Fox Sports on your Amazon Fire TV. You will never be disappointed with what you do.
Must Read: Install Pure Flix on your Firestick