Peacock has been launched by NBCU in the US on July 15. It has three tiers. There is a Peacock Free that comes with ads. Then there is Peacock Premium that gives you more choices to watch for. Obviously, in the latter, you have to pay more per month. It has a good range of shows and movies but the problem is that most people don't know how to watch on their Roku. Here is the complete guide to stream Peacock TV on Roku device.
It's nearly two months that Peacock has started its journey nationwide but this NBCUniversal streamer is still not available on Roku and some other OTT platforms. The question is why this hold up? It is said that there is some disagreement over terms amongst the Companies that are making you wait! However, with the help of a few workarounds, you will learn how to watch Peacock TV from this article.
Also Read: How to watch HBO Max on your Roku?
How To Get Peacock TV on Roku?
While Peacock TV on its launched had been promised to be on every platform but in reality, it seemed things were different. Whatever was the reason for this the result is that you cannot use this app on Roku now.
If you are a Roku TV user you may be worried that whether you will be able to do that or not! Do not worry! Just follow the steps below and you will be able to watch Peacock TV on your TV itself.
Use of mirroring software for screen mirroring:
First, you need to enable screen mirroring from the settings menu of Roku TV.
On your Roku Remote press the Home icon.
At Home, select Settings.
Then select the System.
After this select Enable screen Mirroring.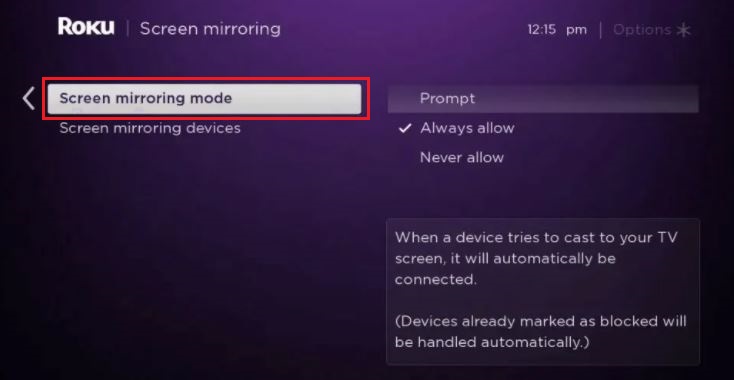 Once done you will able to watch Peacock TV easily with the help of the cast method. But, you need to install the Peacock TV app on your smartphone or tablet to start screen mirroring.
Apart from that, you may have to enable Screen mirroring on your Android device. Just like Roku, Peacock TV is not available in Amazon Fire too. Will talk about that later! For now, you can learn how to enable Screen Mirroring on your Android device.
Your Android Device will support Screen Mirroring only if it is running on Version 4.2 or any later versions. However, there are many android devices that have different terms though.
In order to assist in setting up with Screen Mirroring in your Android device, you require some terms that will come handy. Some common ones are Smart View, SmartShare, AllShare Cast, Quick Connect, Display mirroring, Wireless Display, Screencasting, HTC Connect, and Cast. Different devices use different terms. All that is required is you have to enable Screen Mirroring from the settings menu. You may have to visit the network, connection, or display menu for enabling the feature.
Final words
Until an agreement is made and you start getting Peacock TV available on Roku you can try the above-mentioned hacks. It will let you enjoy the NBC classics and other exclusives that they commit to showing their audience. Follow things properly and wish that the agreement comes up sooner.
Related: Install Peacock TV on your Fire TV