People who love enjoying anime and drama content can take a look at Crunchyroll on Firestick. You can get the best anime and drama watching experience with the help of this app.
This is one of the most popular apps among the manga sellers out there. You can discover lots of free content on the platform. However, you should sign up for a subscription to get the best experience that comes along with it at the end of the day.
You can try the 14-day trial period and get a better picture of the quality of service. Based on that, you can move to the next stage, where you buy a subscription to Crunchyroll and enjoy all the amazing features that come with it.
From this article, we are going to share the steps on how to get Crunchyroll on Fire TV. If you have an Amazon Firestick, you can take a look at the following steps, where we explain how to get the app installed. Then you can continue with enjoying the amazing content that comes on your way.
Related: Get Pluto TV App on Amazon Fire TV
How To Install Crunchyroll on Firestick or Amazon Fire TV?
Step #1:
You should initially connect the Firestick you have to the television.
Step #2:
Then you will need to access the search option on the television. You can navigate to this from the main interface.
Step #3:
When you are in the search option, you can search for the Crunchyroll App. All you have to do is to enter Crunchyroll and then initiate the search.
Step #4:
You can see the results. Out of the results, make sure that you select the app called Crunchyroll.
Step #5:
Now you can find a button called Get. By pressing that button, you can initiate the download of the Crunchyroll app into the device.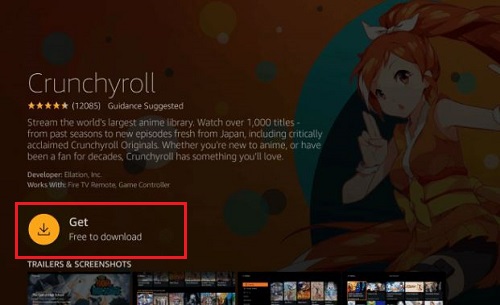 Step #6:
You should wait for a bit as it takes time to get the Crunchyroll app installed on the Fire TV device.
Step #7:
Once the Crunchyroll app is installed, you should click on the open button. Then you can launch Crunchyroll.
These are all the steps that you can follow to install the Crunchyroll App. You can complete the installation and start watching anime series online. Then you will be able to enjoy Crunchyroll on Amazon Fire TV.
Conclusion
Whether you are a hardcore anime fan or new to anime, Crunchyroll is the best app available out there to get. It will cater to all the needs that you have with streaming anime content.
Once you install this application, you will be able to explore the massive library of content that comes along with it. It includes comedy TV shows, live-action drama as well as digital manga titles.
The content library at Crunchyroll is getting updated regularly as well. Hence, you will never be disappointed with the decision taken to get Crunchyroll on Firestick. It will be a decision that you will love.
Must Read: Download NBC Sports on Fire TV