Apple does not specifically or directly allow for its users to change snooze time on the iOS devices. However, for many years now, several users have been looking for the best possible way to go about this. That is why we have decided to provide you with two different ways you can go about to change snooze time on the iPhone.
The first way is to make use of a third-party alarm app while the second is for through a clock app that involves setting multiple alarms at different intervals. In this article, we shall be examining how to change snooze time on your device using these two methods.
How To Change Snooze Time on iPhone?
#1 Making Use of the Clock App
Before we get into the steps you will follow to change snooze time using this method, let us outline some of the things that you must first consider.
The length of snooze on iPhone
Generally, every iPhone has a snooze time of nine minutes. So when you set an alarm, it automatically notifies you after every nine minutes.
This doesn't sound nice to you if you need extra time to sleep so you may want to extend it. If, on the other hand, you are a deep sleeper, you may find this time too long to get you to stand up and may want to reduce it.
The reason why it is pegged at 9 minutes
Mechanical alarms are limited to a 10-minute snooze time. This is the only practical explanation for why iPhones have their snooze time pegged at 9 minutes. There are still concerns, however, as to why Apple chose to stick to this considering that the iPhone doesn't fall into the category of devices with mechanical alarms.
Whatever the reasons are for why iPhone has decided to peg its snooze time at 9 minutes, your concern is either to reduce it or increase it. To change this snooze time by making use of the clock app, you need to follow these steps.
Steps To Change Snooze Time
Step #1:
Open the clock app on your iPhone.
Step #2:
At the top right corner of the app, you will find where you can create a new alarm, click on it.
Step #3:
Before creating a new alarm, turn off the snooze. You can do this by clicking on the toggle button you will find on the alarm page.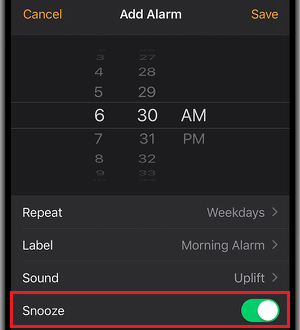 Step #4:
Set your alarm time to your desired time and save it.
To set alarm at your desired intervals, you can create as many alarm as you need for your preferred interval. This alarm created by the clock app will automatically override that of your iPhone and you won't have to worry about the snooze time that comes with the phone.
Also Read: How to install Eurosport Player on your Apple TV?
#2 Using a Third-Party App
Making use of the clock app will require you to set multiple alarms and this can be a bit stressful. If you are one of those who find the clock app option stressful, you can make use of third-party apps.
You can download an alarm clock app on your iPhone from the Apple store. Not only will you find several free apps to choose from, but you can also find some that allow you to customize your alarm and by extension, your snooze time.
If you are finding it hard to identify the best third-party app to use, let us examine some of the options available in the store and why they will be great for you.
The alarm app is a free application available on the Apple store that can help customize your alarm and set a snooze time that suits you. This alarm app allows you to set a snooze time between 1-60 minutes and you can have your favorite music play for this alarm.
Another great feature of this alarm app is the option that allows your phone light to flashes continuously while the alarm rings. It has a simple design and features that accessible for free.
This is an alarm app available in the Apple store that allows users to set snooze time between 2-30 minutes. This is a great app for you if you are a heavy sleeper and one who wants to get up right on time.
This alarm app offers a lot of good features from design to sound. With the free version, you can use the basic features of it.
Another great alarm app on the Apple store is Alarmy. It is a comprehensive app that allows you full control over your alarm snooze time. It allows you to set your iPhone snooze time between 1-60 minutes. This app offers various ways to wake you up in the morning and no doubt you are going to find all of them amazing.
While this app offers its basic features freely, there is also a paid option that gives you access to other amazing features. If you can afford it, you can subscribe to the monthly or lifetime plan and enjoy fully personalized alarm features.
Conclusion
You shouldn't own an iPhone and still be having challenges controlling your alarm snooze time. You should not also own an iPhone and not be able to use the alarm. There might not be a direct way to change snooze time on the iPhone, but you can make use of any of the two methods provided above to gain control over your alarm.
The choice of either going for the clock app on your iPhone or downloading any of the third-party apps available for free on the store is yours to make. What matters the most is for you to know how to go about any of the methods you choose.
If you are okay with setting multiple alarms, then you can go for the Cock app method. If you find setting multiple alarms stressful, then why not visit the store and download any of the free apps available?