CBS Sports channel is one of the most popular sports channels that you can find out there as of now. Any person who is into sports content streaming will be able to take a look at the CBS Sports on Roku.
Sports fans out there are provided with access to numerous subscription-based streaming services. Out of them, CBS Sports is the most popular and highly rated option available to consider. That's because it will help you to catch the best sports content live in action.
Some of the people will be able to gain access to the CBS channel over the antenna. But if you cannot do it, you can get this Sports channel on Roku. That's one of the most popular methods among people out there in the world to watch and enjoy the sports channel as well.
Related: How to add NFL SUNDAY TICKET on Roku?
How To Watch CBS Sports on Roku?
Below mentioned are the steps that you will need to follow to get the CBS Sports on your device. Make sure that you follow these steps and you can easily get content for streaming. Any person can go through these simple steps as well.
Step #1:
Use the Roku remote controller and press on the home button.
Step #2:
Now you will be able to get to the menu and then look for the "Streaming channels" option. You will be able to see this in the left-hand sidebar.
Step #3:
You will now be provided with the on-screen keyboard. Using this on-screen keyboard, search for CBS Sports. Then you will be able to see CBS Sports App.
Step #4:
When you see the option, you can click on it and then pick the option called Add Channel. You don't have to make any payment to install CBS Sports. It is completely free and you can install instantly.
Step #5:
Once you are done with installing the CBS Sports app, click on OK.
Step #6;
Now you will have to press the home button of your Roku again.
Step #7:
This is where you should locate the CBS Sports app in the list of channels that you have installed. Upon locating the CBS Sports app, click on it and open.
How To Activate CBS Sports?
Step #1:
After opening the app, click on the sign-in option.
Step #2:
Now you will be able to see an alphanumeric code on the Roku screen. Note down the code.
Step #3:
From your smartphone or computer, visit this URL https://www.cbssports.com/roku to activate.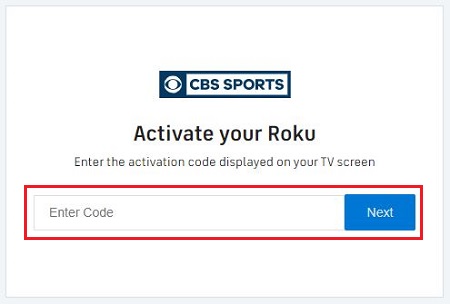 Step #4:
Enter the alphanumeric code that you have noted and then click next.
Step #5:
Next, you will be asked to sign in with the credentials. You should sign in with the login credentials that you have and then verify your Roku TV.
Step #6:
Now you are done with activating CBS Sports App. Hence, you will be able to start enjoying your favorite sports content on your Roku using this channel.
Conclusion
One of the best things about the CBS Sports app is that it is designed to stream sports content throughout 24 hours of the day. When there are no live games taking place, you can enjoy highlights, sports news, and even betting advice.
You can enjoy them on your television with the subscription that you have for CBS Sports Network on Roku. If you wish to get dedicated coverage for NHL, NFL, NBA, and MLB drafts, you will be able to get the job done as well. Follow the simple steps and you can complete the job.
Must Read: Watch ESPN on Roku TV