Tubi TV is providing an excellent collection of movies and TV shows. If you are looking for a way to kill your boredom and get hands-on with the best content, you can take a look at Tubi TV on Firestick. This is one of the most popular entertainment apps available among people out there as well.
You can install Tubi TV on a variety of devices. Out of those devices, the Amazon Firestick holds a prominent place. We can see how lots of people are sticking to the Fire TV to install and use Tubi TV. You can be one of them as well because all you have to do is to follow a few simple steps to get the job done.
How To Install Tubi TV on Firestick?
Here are all the steps that you must follow to get Tubi TV on Amazon Fire TV. These steps are quite simple. Hence, we believe that any person will be able to follow and get the job done.
Step #1:
You should initially connect your Firestick to the television.
Step #2:
You will need to go to the home screen after you access Firestick. This is where you should hover over to the Search icon.
Step #3:
Now you can enter Tubi TV. You can scroll down in the list of recommendations and you will be able to locate Tubi TV App. Pick the app after it shows.
Step #4:
You can click on the Tubi TV app when it is appearing on the screen.
Step #5:
Click on the Get button and you can kickstart the download process.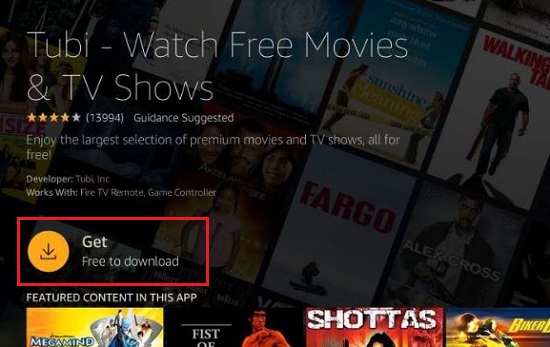 Step #6:
You should wait for some time until the application gets downloaded. Once the application is downloaded successfully, you can get a notification. Then you should take your remote controller and press the back button. You might have to press the back button multiple times until you end up getting to the Home Screen.
Step #7:
When you are on the Home Screen, you should move over to Tubi TV. Then you should hold the options button. Along with that click on the button called Move.
Step #8:
You can navigate to the Your Apps and Channels screen on the Firestick. This is where you should be moving the Tubi TV. Place that in the preferred location and tap on the select button.
Step #9:
Hit the back button again on the remote controller and get to the home screen. You should next click on the Tubi TV app to launch it.
Conclusion
By following these steps, you can get Tubi TV on Firestick. You can launch the app without facing any issues. Before you can start streaming content on Tubi TV, you will need to sign up for an account. If you don't have an account, you will be able to sign up from the app interface as well. Or else, if you have an account, you can sign in by entering the credentials. Then you can proceed with enjoying the content on Tubi TV without facing any struggles.
Must Read: Install Crunchyroll App on your Fire TV