Oreo TV is a live TV app that everyone cannot seem to stop talking about. It boasts over 6000 live TV channels. With Oreo TV, you get access to the best live TV channels in various languages. No matter where you might be located in the world, the app will allow you to access content in the language of your choice. It is the ultimate platform for sports lovers. They will be spoilt by choice. Watch live cricket, hockey, baseball, football, and more using the app. If you are a Firestick user and want to install the app for your device, this guide will come in handy. The guide provides easy steps to that you can access Oreo TV on Firestick in no time.
The steps mentioned in the post are simple permission requests that will allow you to use FileLinked to download the app. Before diving into the post, it is important to remind those that are familiar with Kodi that the system is ever-evolving. The system by nature has many add-ons. You might not even know when your favorite add-on has been turned off because it would continue to operate in the background. However, you will start to notice that fewer links would function. It is because of the add-on that has been left.
So What Is Oreo TV?
Offering thousands of Indian and international films, HD quality web series, and TV series for free, Oreo TV is one of the most popular video streaming app out there. After the Terrarium TV app closed down, Oreo TV quickly became the best alternative for watching TV episodes and movies in high-quality.
How Can You Use Oreo TV?
To understand how you can use Oreo TV, it is important for users to first understand that it is an APK that offers live TV access to Android devices. It is user-friendly and works remotes on all Android devices. But, Firestick requires a bit more effort. There are plenty of cable-TV channels on the platform.
How To Install Oreo TV on Firestick/Amazon Fire TV?
The following steps will help you install Oreo TV on your Amazon Fire TV device in no time.
The first thing that you need to do is download FileLinked on your Fire TV/Firestick.
After you have installed it, open FileLinked and enter "22222222" in the screen and press on continue.
Next, you should enter the PIN 4754 and press continue.
Now, select dismiss on the popup.
Scroll all the way down until you come across Oreo TV. Click on download and choose to dismiss again once the popup appears.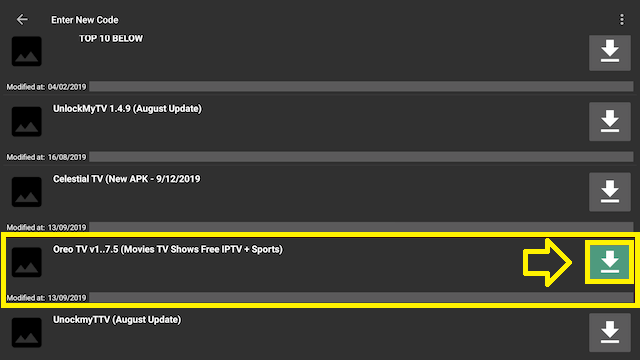 Once Oreo TV has been downloaded on your Fire TV, the download button would change to play. Thus, you can press play.
Now, you will need to scroll down and choose to install it. After the installation is completed, the app would appear in the apps area.
Press open to start using the app.
Conclusion
Now that you have gone over this post, you will download Oreo TV on Firestick with no effort and start streaming amazing content.
Read Also: Install BritBox App on Firestick