Updates are offered to Google Chromecast from time to time. You need to have a clear understanding of how to go ahead with the Chromecast update and get it to your device on time. Along with that, you will be able to keep the Google Chromecast updated at all times and experience all the amazing features that come along with it.
How To Update Chromecast?
Since most people don't have a clear understanding of how to get Chromecast updated, we thought of sharing the steps that you should be following to get the job done. Simply follow these steps and you will receive all the support needed to update the device according to your needs.
Step #1:
You should initially visit the Chromecast support page to update Chromecast. This is where you can find all information related to the latest firmware that you can get.
Step #2:
It is important to have the Google Home App on your mobile device. If you don't have it, you should get it before you proceed to update.
Step #3:
You need to make sure that the Google Chromecast is turned on. Then you will be able to receive the cast signals. You will need to ensure that the Google Chromecast and smartphone you have are both connected to the same Wi-Fi network.
Step #4:
Now you need to open the app that you installed on your smartphone. Then you should locate the Google Chromecast.
Step #5:
There is a gear icon that you can see on the interface. Simply click on that icon and you can access Google Chromecast settings.
Step #6:
Now you need to get to the bottom of the page so that you will be able to see the firmware version of Google Chromecast.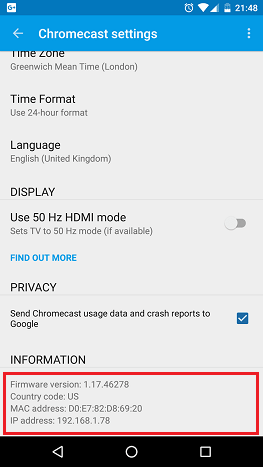 Step #7:
You need to compare the firmware version of Google Chromecast along with the latest firmware. If your Google Chromecast firmware is newer, you don't have to do anything. If not, you will be able to turn on the automatic updates through the Google Home app.
Step #8:
If you wish to update through the manual process, you should click on the three dots.
Step #9:
Then you will see a pop-up window. Click on the reboot button and reboot your Google Chromecast.
Step #10:
Google Chromecast will shut down and restart. When it is restarting, it would download the firmware and install it.
Step #11:
When your Google Chromecast has turned on again, you will be able to start using it as normal.
These are the steps to update Chromecast. Once you are done with the update, you can get back to the firmware page and confirm that you have got the latest update that is available for your device.
Also Read: How to Chromecast Google Meet?