Amazon Fire TV Stick will offer you plenty of features by connecting to your TV via HDMI ports. You can watch your favorite TV serials, movies, sports and more by installing apps like Plex, Stremio, Netflix, Hulu, Amazon Prime Video, etc. But, some times your Firestick may get slow down its performance due to app loading data and you may feel uncomfortable while using it. So, it is better to restart your Firestick. Here, we mentioned three best methods on how to restart Firestick.
Below we provided a complete tutorial using three different methods. All these methods will work perfectly and it will increase the performance of your Firestick.
How To Restart Firestick Or Fire TV Stick?
Follow the below step by step guides and choose the best one which will be easy to do from the 3 methods.
Method #1: How To Restart Firestick Using Remote
If your Firestick is stuck in the middle, it is better to respond quickly and get back to normal. This problem might occur when the app data isn't loaded properly or with the high consumption of the memory. At this moment, your Firestick doesn't respond quickly and it will take some time to load the app data.
To solve this issue, you need to restart your Firestick or Fire TV Stick. To do that, follow the below guidelines:
First thing first, get the "Firestick Remote" into your hands.
Now you need to click on the "Pause/Play" button and select the "Power" button simultaneously for five seconds.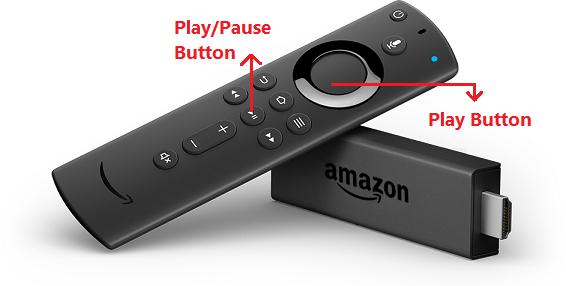 When you click those two buttons together, it'll show you a message like "Your Fire TV Stick is Powering Off".
After the powering off, your Firestick will restart automatically.
Method #2: Restart Firestick By Unplugging
This method is very simple and doesn't take much time to restart your Firestick. To restart your Fire TV Stick, all you have to do is unplug the power cord from your device.
Use this method when your Firestick is got blank and frozen. Also, you can unplug the power cord when your Firestick isn't responding to the remote.
After unplugged, wait for a few seconds at least 30 seconds and then plug back in. When you do that it will load properly in a minute with all the installed applications. It is a simple and easy way to restart your Firestick and it will run successfully.
Method #3: Restart Firestick Using Settings
If the above two methods don't work for you, try this method by going to the Fire TV Settings. When your Firestick showing a blank, frozen it won't work for you. At this time, try the second method which is unplugging the power cord.
Here is the step by step guide to restart Fire TV Stick using settings option:
Now open the "Settings" option from the home screen of the Firestick.
Find the "My Fire TV" option and then click on it.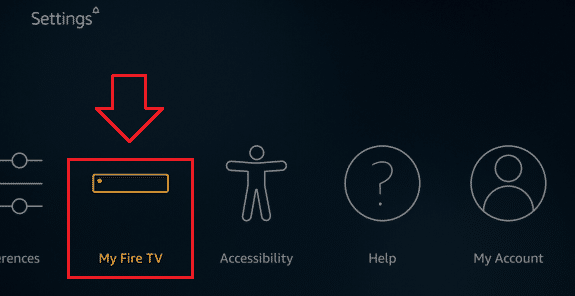 In My Fire TV settings, you will see a list of the options. Now scroll down and then tap on the "Restart" option.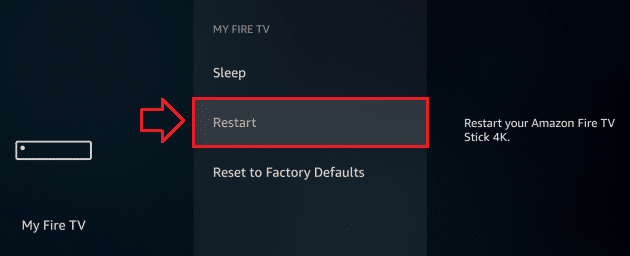 When you click on the restart, it will show the option to restart your Amazon Fire TV Stick.
Now again click on the "Restart" button.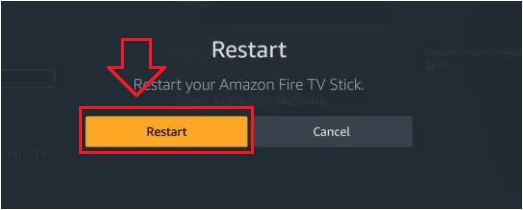 When you tap on the restart button, you can see a message "Your Fire TV Stick 4K is Powering Off".
It confirms that your Firestick will restart in a few seconds and access all the applications without any issues.
That's it!
To Conclude…
By following all the above methods, you can learn how to restart Firestick or Amazon Fire TV Stick. All these methods will work perfectly and do comment is there a new way to restart Firestick when it stuck.