HBO Max is a new streamline service launched on 27th May that allows people to watch a variety of programs with excellent quality. In fact, it brings more original series enabling a person to access favorite shows from a library. Apart from 7-days free trial, subscribers can even watch programs for just $ 14.99. Google Chromecast is a video streaming device that let users share their phone or laptop's screen directly on the TV. At the same time, anyone who wants to watch programs of HBO Max on Chromecast should know the tips from the below section.
How To Watch HBO Max on Chromecast?
A person should visit the official website of HBO Max and create an account by filling the required details. Apart from that, it is necessary to install the app on mobile phones and log-in to the account using HBO Max credentials.
Furthermore, users should make sure that Chromestat is working properly. This, in turn, paves ways to watch different types of programs on a mobile device or computer with high-quality pictures.
Also, it is imperative to check whether the platform is compatible with a device before the installation process to get peace of mind from unwanted problems significantly.
Cast HBO Mac from Your Smartphone
Step #1:
Download HBO Max App on your mobile phone whether it's Android or iOS.
Step #2:
Open it and then sign in to your HBO Max account. Next, connect mobile and Chromecast to the same network.
Step #3:
Pick a movie or TV series to watch and then tap on the Cast icon from the top mobile screen.
Step #4:
Next, select the Chromecast device and the mobile screen will be displayed on the TV.
Cast HBO Max from Your Computer
Step #1:
Before casting HBO on TV, one should make sure that both devices have the same Wi-Fi connection.
Step #2:
In the next step, users should open the HBO Max website. And then switch the TV to the input channel for Google Chromecast.
Step #3:
They should select the patch to watch HBO Max on your TV that gives ways to watch a variety of programs with high-definition effects.
Step #4:
A menu is available on the top right of the screen which appears in three dots that is Customize and control Google Chrome. And one should select the Cast option for ensuring the best streaming experience.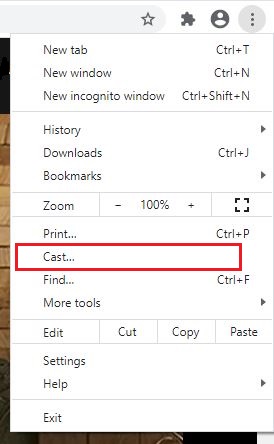 What Are the Features of HBO Max?
HBO Max supports offline downloads on mobile devices after installing the app properly. Moreover, users can view popular content from various categories to ensure more fun.
It is possible to watch a new series of HBO series on TV via Chromecast that provide complete entertainment. Moreover, subscribers can enjoy them with the most advanced technologies.
HBO Max app is available on Google play store and one can download the same in simple steps. In addition, it makes feasible ways to stream videos and other things based on the choices.
Knowing More About HBO Max
HBO Max is currently available in the US countries and people who are using a VPN should disable it as soon as possible.
New subscribers who want to know more about services and other things can visit the official website or send a mail to the support team. This will help get more ideas quickly enabling users to make the right decision.
The platform provides the best opportunities for watching a variety of programs without any difficulties. On the other hand, it is advisable to read the terms and conditions in detail before installing the app.
To Conclude…
By using the above guidelines, you can stream HBO Max media content on your TV via Google Chromecast. Now enjoy the experience of HBO Max on your big screen.
Must Read: Get ABC iview on Chromecast