Do you have an Amazon Firestick? Then you may think about getting DAZN on Firestick. DAZN is one of the most popular on-demand and live streaming sports services that you can find out there as of now.
It is possible for you to enjoy sports content at any given time of the day with the help of DAZN. On the other hand, DAZN ensures that the service is available to you at a price that you can afford as well. Regardless of where you stay in the world, you can access DAZN. That's because DAZN is available to over 200 different countries in the world as of now. From this article, we will share the steps on how to get DAZN on Amazon Fire TV with you.
How To Install & Watch DAZN on Firestick?
It is important to keep in mind that the DAZN app is readily available in the Amazon App Store. Therefore, you will not have to go through the hassle of side-loading this application into your Amazon firestick device. Here are the steps to install DAZN on your Fire TV.
Step #1:
You should first go to the home screen of your Firestick device. Then you will need to pick the option named Find tab.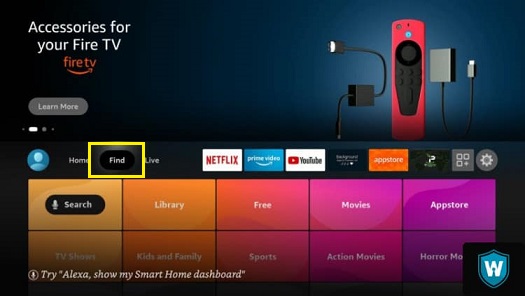 Step #2:
Next, you should click on the option named search.
Step #3:
Next, you can use the on-screen keyboard to search for DAZN. Then you will need to pick the DAZN app out of a list of suggestions that are available to you.
Step #4:
You can then select the DAZN app to install.
Step #5:
Once you locate the DAZN app, you can click on the Download button. Sometimes this button will be visible to you as a Get button. No matter what, clicking on it will download the DAZN app to your Amazon Fire TV device.
Related: Stream DAZN on your Smart TV
How To Add DAZN App To Fire TV Home Screen?
If you are a person who finds yourself accessing the DAZN app regularly, you may think about adding it to the Fire TV home screen. Then you will find it an easy task to access DAZN when you want it.
The steps of adding DAZN to the home screen are not too challenging. You can select the app and then hit on the options button. Then you will be able to see the move option. After that, you can move the DAZN app into the home screen.
This is all that you need to do, and you will find yourself creating a shortcut to access DAZN. This provides you the chance to enjoy your favorite sports content without a challenge.
To Conclude…
These are all the steps that you should follow to get DAZN on Firestick. Once you are done with these steps, you can continue to enjoy the content. The DAZN app will be visible among the apps that are installed on the device. You can simply go through them and locate the app.
Also Read: Download DAZN on your Apple TV