BritBox is the best streaming platform to watch all the collection of British TV shows from various categories like comedies, mysteries, dramas, documentaries and much more. BritBox App supports all types of devices which include Android, iOS, Apple TV, Fire TV Stick, Roku TV, PC Windows, and Mac, Chromecast, etc. Let's check out all the ways to sign in to BritBox from various platforms.
You can stream all the latest releases, shows and specials without any interruption. It is an ad-free application and the shows will be updated regularly. Now we'll move to section how you can login to your BritBox application.
How To Sign in to BritBox?
#1 From the Web
If you wanna login to BritBox account from the web, follow the given steps:
Go to the official website of BritBox.
On the homepage, you can find the sign in option which is located at the top right corner. Click on Sign In.
In the sign in page, you need to provide your email address and then enter the right password associated with that account.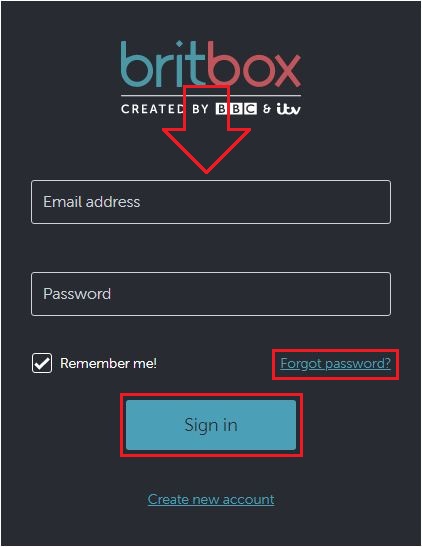 If you forgot the password, click on the Forgot password option which is available on that page itself.
Now you'll receive an email to reset your password.
Create a new password and then login to your account by visiting sign in page again.
#2 From Android & iOS Device
Follow the below steps to sign in from your Android and iOS gadgets:
Launch the BritBox App from your mobile phone or tablet and then tap on the Menu icon.
Here, you will see a circular ID icon from the drop-down menu.
Now you need to enter your email address and password to login to the BritBox app.
In case, if you lost the password, use the Forgot password option to reset a new password.
#3 From Roku & Apple TV
In order to sign in to your account from your Roku TV or Apple TV, follow the below steps:
Launch the BritBox app and then tap on the circular ID icon which is available at the top right corner.
Now you can find the sign in option. Tap on Sign In.
In the next screen, you need to enter the right email address and password.
To reset your forgotten password, click on the Forgot password link and set up a new password.
#4 From Smart TV
If you are using Samsung Smart TV, use the below method to sing in:
Launch BritBox App from your smart TV.
On the top right side, sing in option is available. Click Sign In.
After that, visit this URL https://us.britbox.com/connect/samsung from your web browser via mobile phone or desktop browser.
Now sign in your account.
Now you need to enter the unique code which is displayed on the TV screen and tap on the Connect option.
When they connected, your TV screen will be refreshed.
To Conclude…
Now you can easily sign in to your BritBox account through Web, smartphone, Smart TV or even from the other device. Start streaming content from various gadgets.